Director's Statement
I was brought up Southern Baptist in North Carolina. As I matured the church's definitions of a life well lived and a death honestly confronted deteriorated. If one reads Saint Augustine's 'City of God' one quickly realizes that Christians, in order to promote their nascent religion to the pagans, sold the idea of post-mortem eternal life. One could say that the emptiness of the grave was filled with belief. In a post-religious secular society (and ours is just that despite current powerful political voices) death can finally be understood and accepted as unknown. My film attempts to give expression to this shift in our cultural consciousness by showing and being an alternative form of mourning.


Director's Biography
David Dixon is an artist, actor and filmmaker living in Brooklyn, New York. His first documentary short, 'The Boat' premiered at the Museum of Modern Art in New York City in January 2005 as part of the Museum's 'Premiers' series. His one-person play 'Fake Flowers, Part IV (the old man live)' was performed at Galapagos in Williamsburg, Brooklyn and Dixon Place in Manhattan in 2001 and 2002, after which he produced an audio CD in collaboration with composer Fernando Otero titled 'Fake Flowers, Part V (doubting t.o.m. [the old man])'. In 1996, his feature length art video 'Fake Flowers Part II, III, and I(2)' was shown at Postmasters Gallery in New York City. David has shown his painting, sculpture and video internationally. He was born in Philadelphia in 1968.
<< back to unloosened and root main page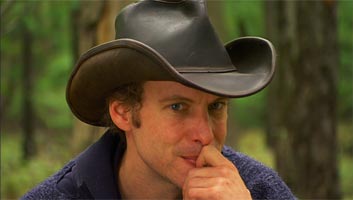 David Dixon as Joe Johnson